4 Aug 2023
Planning a trip to Copper Mountain means you're in store for some jaw-dropping sights no matter the season. As temperatures start to cool after summer, however, the landscape is rapidly transformed into a vibrant sea of reds, oranges, and yellows. Fall colors in Copper Mountain, Colorado could rival the colors anywhere else in the country. 
The aspen and cottonwood trees start to make their transition around mid-September to early October depending on the elevation. As the days get shorter, photosynthetic activity decreases and the mountainside erupts into a spectacular showcase of autumn. Historically, the best colors come around the end of September so start planning your trip now. The best way to experience a Copper fall is to get out and hike the trails. These are five of the best fall hikes for you to enjoy in Copper Mountain.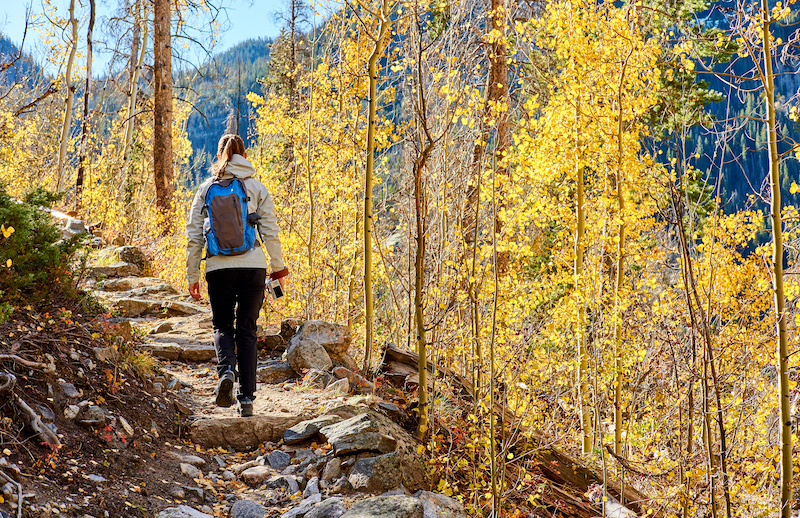 1. The Whole Package: Wheeler Lakes Trail
Wheeler Lakes Trail starts just on the other side of the highway from Copper Mountain. The trail is 6.7 miles out and back with a little bit of everything making it an amazing hike in the fall. Aspen trees, lakes, and stunning views all make up this moderately difficult hike. It's all worth it at the end when you get to soak in the views from the top of Lake Dillon and Frisco. This nearby hike is the best choice for those who want to see it all.
2. All Skill Levels: Rainbow Lake Trail
Rainbow Lake Trailhead is just a short drive up I-70 from Copper Mountain to Frisco, Colorado. The trail is a short 1.5-mile loop with amazing views of the mountains all around that seemingly cascade down to Rainbow Lake. With wildlife and trees galore, this is great for the amateur hiker and photographer looking to just take it easy while still seeing those beautiful Copper fall views.
3. Open Air Spaces: Mayflower Gulch Grand Traverse
Another moderate 6.1 mile out and back trail, the Mayflower Gulch Grand Traverse seemingly transports you back in time before the modern industrial age. The trail starts six miles south of Copper Mountain and after the first three miles of the hike, the forest peels back and the sky opens to reveal the gulch. You'll find the Old Boston Mine at the bottom of the peaks and then views that seem to go on forever as you climb a series of switchbacks for a mile.
4. Surrounded by Color: North Ten Mile Creek Trail
As with most trails near Frisco & Copper Mountain, the North Ten Mile Creek Trail is rated moderate. 7.3 miles out and back but this trail truly surrounds you in the beauty of nature. You'll follow the North Ten Mile Creek while being surrounded by trees, water features, and plenty of peaks at which to gaze up and marvel. This heavily wooded trail is sure to deliver on plenty of fall colors while still being a fun experience.
5. For the Seasoned Hiker: Peaks Trail
Peaks Trail is a 7.7-mile trail from Frisco to Breckenridge but can become a 15.3-mile trail by turning around and returning to where you came from. For the seasoned hiker, the elevation gain of 1,735 feet is an exciting challenge with amazing views and trees galore. If you want to take on the elevation challenge but not sure you're up for 15 miles, don't worry! You can catch a bus back to Frisco from Breckenridge so that you can enjoy all the trail has to offer without doing it twice. This well-marked and maintained trail is an exciting challenge that promises to be gorgeous throughout fall.
Book a vacation rental and come see the leaves change in Copper Mountain for yourself!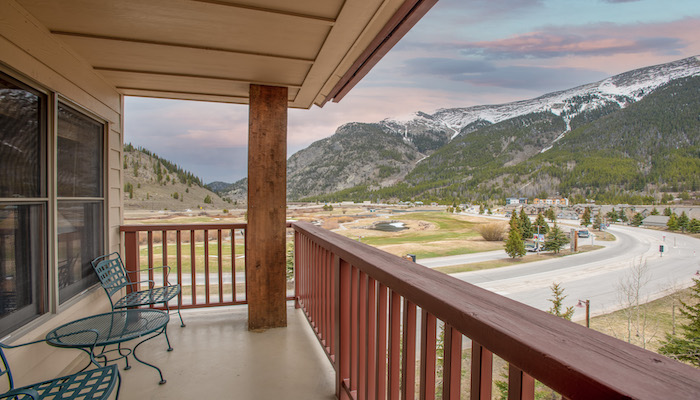 You can enjoy crisp mountain air and amazing views when you book your visit to Copper Mountain. Come see what makes Colorado so popular among travelers and what makes it so much fun no matter the season. After a full day of hiking, Copper Mountain has incredible dining experiences and fun nights on the town all capped off by comfy and relaxing places to stay. Book a rental with a hot tub and see the fall colors right from the comfort of your own porch. Make a jump start and start planning today!