Learn more about how to get to Copper Mountain, Colorado as well as Copper Vacations check-in/check-out and parking information, as well as our pet policy, cancellation policy, deposit policy, and more.
Click for : Copper Vacations Google Map Location
Watch the Driving Direction Video https://g.page/CopperVacations?share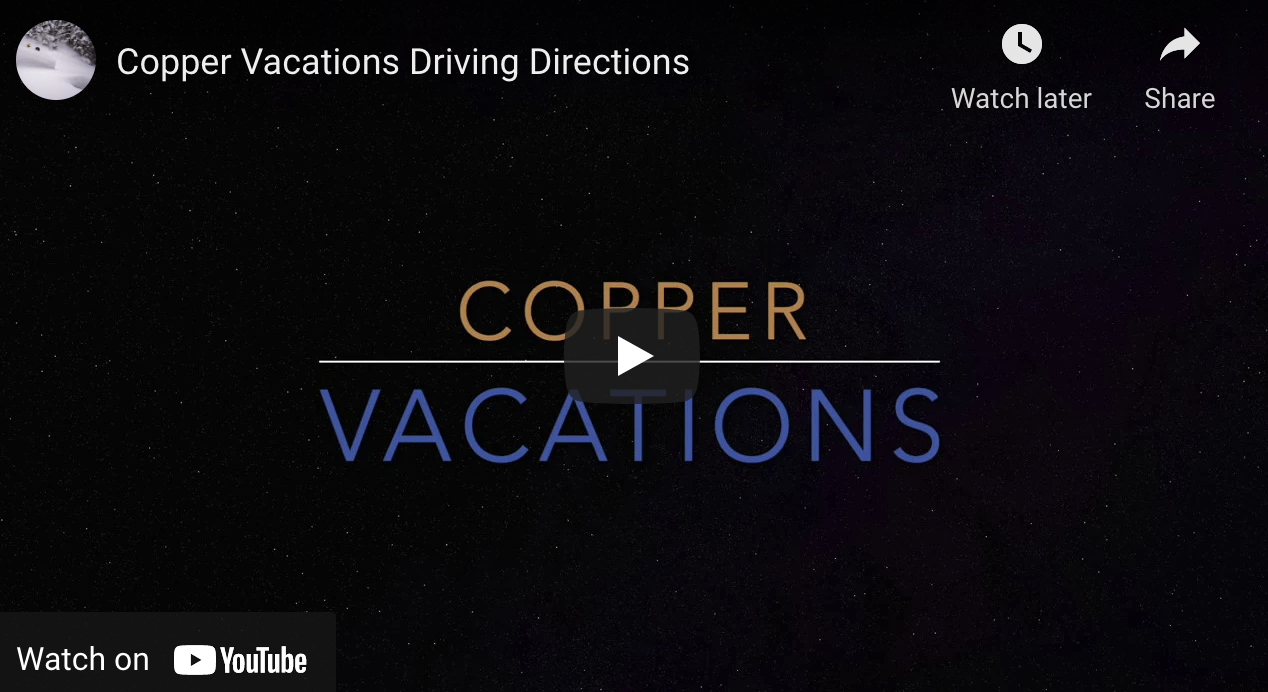 Watch the Night Driving Directions Video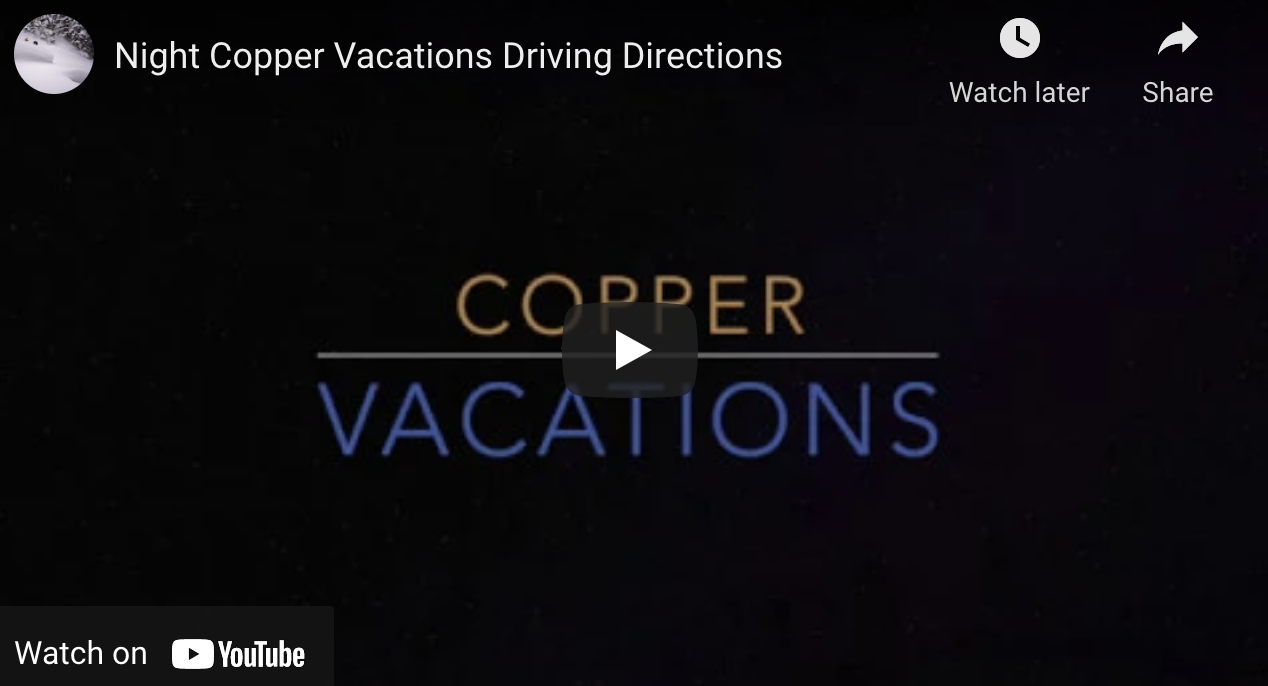 Parking
Copper Vacations will not be able to get you parking prior to 2 p.m. on the day of your arrival.  If you are arriving before 2 p.m. on your day of arrival, you may park in the Alpine Lot, free and without reservations.  Check out time is 10 a.m. Cars may stay parked for the ski day on your day of departure. 
Deposits
A deposit equivalent to 25% of the lodging package will be due at the time of making your reservation.  Deposits can be taken by credit card or check. Our mailing address is PO Box 3868, Copper Mountain, CO 80443. Please write your confirmation number on your check.
Balance Due
Balance of total vacation cost is due 30 days prior to arrival. Copper Vacations reserves the right to charge credit cards on payment dates.
Cancellations
Reservations are cancellable outside of 30 days prior to your arrival for a $100 cancelation fee.  Once you are within 30 days of your arrival, reservations are non-refundable. 
Pets
Copper Vacations has a limited number of pet-friendly rooms, please speak to one of our agents to book these condos. All other Copper Vacation properties DO NOT allow pets. Copper Vacations reserves the right to charge a fee of NO LESS THAN $500.00 if we find evidence of pets, of any size, during your stay, or after the departure inspection of your condo.
Questions
If you have any questions regarding our deposit and cancellation policies, please contact a reservations agent at (800) 525-3887.
Travel Insurance
It is hard to plan for a vacation in advance, Copper Vacations suggests protecting your investment, allow yourself coverage in case of unforeseen events. This option is available for a small percentage of the total reservation. Ask a reservations agent for further information. Or follow this link to protect your trip.
Damage Waiver
Copper Vacations charges a mandatory damage waiver for every reservation. This covers any accidental damage during your stay up to $500.00
Housekeeping
We preform a full departure clean after your departure, there is no service mid-stay.
Athletic Club
Available for additional fees.  (970) 968-3025 for more information.
Accommodations
Occasionally reservations must be relocated. We reserve the right to change units with like accommodations up to and including the day of arrival. Every effort will be made to honor your selection. Note this is a very rare occasion.
Check-in/Check-out - 970.968.6840
Check-in time starts at 4:00 P.M. We can accommodate parking after 4 p.m. on your day of arrival. There are no early check-ins. Note that during peak times check-ins could be delayed by up to 1 or more hours.  Check-out time is 10:00 A.M, our 10:00 A.M. check-out time is strictly enforced. Guests who do not check-out by our check-out time and have not made arrangements with the front desk are subject to late check-out fees and/or an additional night's rental.
Late Check-In - 970.968.6840
If you are arriving after hours, there will be a late-night check-in packet in the box immediately to the left of our office door. Inside the packet, you will find keys, a parking pass, directions to your condo, and a Manager-on-duty phone number in case of emergency. Please call us during our regular business hours if you would like more than two keys, or additional parking permits so that we may make arrangements for you.   
Arrival from DIA and Denver 
To travel from the Denver area to Copper Mountain, get on I-70 WESTBOUND and follow this Interstate until you get to the Copper Mountain Exit, Exit 195. The exit ramp will lead you southbound. Take a right at the stoplight onto Copper Road. Follow Copper Road for .8 mile, you will pass through two stop signs, after the second stop sign you will see a large pay parking lot on your left (the Chapel Lot). We are the grey building with blue trim just passed this lot on the left, Snowbridge Square. Copper Vacations is located on the parking lot level facing I-70.
Arrival from Colorado Springs 
If you are arriving in Colorado Springs, take I-25 North to C-470 West, follow C-470 to I-70 WESTBOUND. Stay on I-70 until you arrive at the Copper Mountain Exit, Exit 195.