970-668-5323 or 800-247-7238
Zip through the Rocky Mountains
Go on an adventure on the Copper Mountain Zip Line Tour where you can catch some speed and take in the incredible views of Colorado's high country. The Top of the Rockies Zip Line tour is one of the most scenic ziplines around, plus it's the only zip line in the world that goes over functioning train tracks: the historic Leadville Colordo & Southern Railroad train. 
About the Copper Mountain Zip Line Tour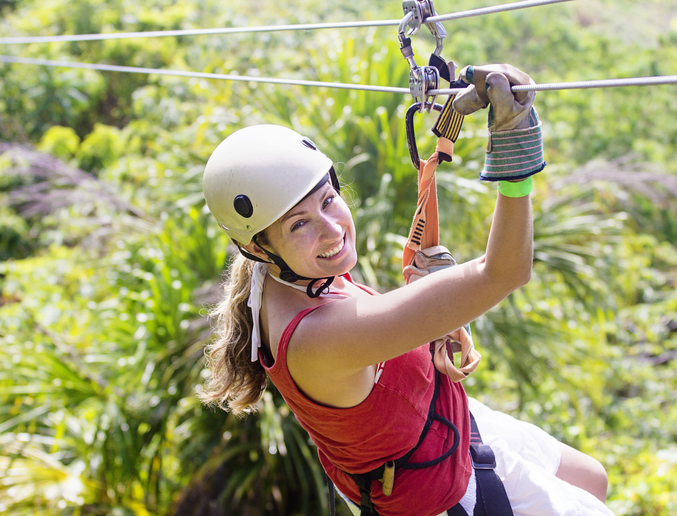 Meet your guides and board the 6 ton Monster Truck, 4-wheel drive vans or Polaris ATVs, depending upon the number of guests who are scheduled.
Enjoy the climb up almost 1,000 vertical feet from Base on winding trails through the Forest to some of the higher elevations on the Continental Divide. Guides will point out old mining ruins, close-up views of some of the highest mountains in Colorado including Mt. Elbert and Mt. Massive, and possible views of the resident elk herd. Perhaps you will see passengers departing from their ride on the Leadville Colorado & Southern Railroad on our property by the water tower.
Fly side by side, race your families and friends off the sturdy decks. All lines have double cables for safety; "Self Braking" is not required. Our brakes will slow you down for the landing where guides will be waiting to assist. The brief walks between the sections are all downhill. Ride the BIG NUGGET ZIP TO THE END OF THE LINE; IT'S A TRIPLE.
All lines are between 10,000 and 11,500' of altitude. It's always cool and comfortable in our high back-country area.
Copper Mountain Zip Line Tour Details
Rates: 
Adults: $125
Children (7-12): $100
Minimum/Maximum weight: 55 lbs -  260 lbs.
Tour includes all sections of the course. 
Tour Times: 9 am, 12 pm, and 3 pm (arrive 30 minutes prior to tour start time)
Book Your Summer Vacation to Copper Mountain