(866) 677-1663
Play America's Highest Golf Course
Copper Creek Golf Course, with a starting elevation of 9,700 feet and a tee at 9,863 feet, is America's Highest Golf Course. Designed by Pete and Perry Dye, the narrow fairways and dramatic changes of elevation make this par 69, eighteen-hole course one of Summit County's best. Avoiding water is the name of the game on the front nine and precision through the scenic back nine is necessary to come in with a good score.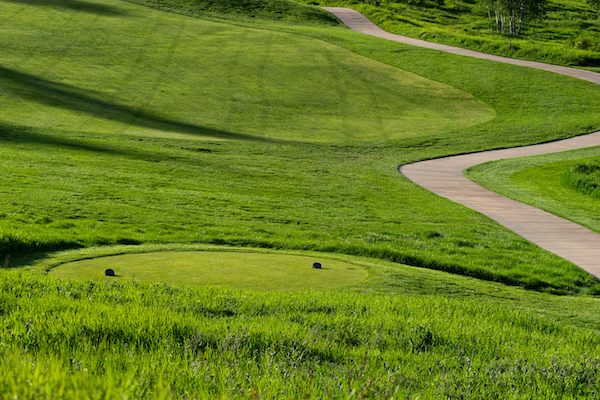 Take in the View and Hit the Ball Into Thin Air
At 9,700 feet, you can hit the ball almost 20% further with the same amount of effort. This makes driving the ball extra special. Unofficially, golfers sometimes play outside the core season, even using dayglow balls that are visible on any snow patches. Every round gives you great views of the Ten Mile range and a unique golf experience. Golf enthusiasts come from all over the United States to play Copper Creek and see how far they can drive the ball into the thin air.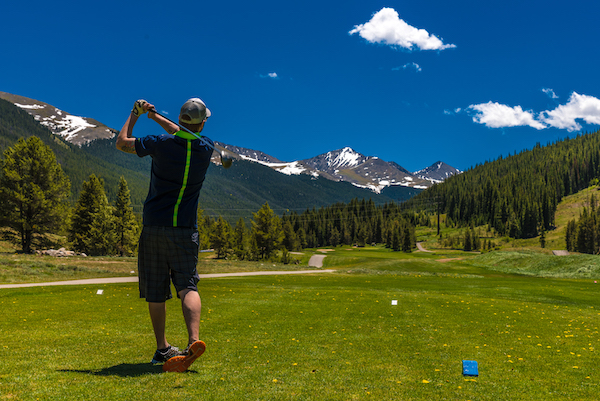 Relax after Golf at Copper Village
Golf is a great summer activity at Copper Mountain. We love spending long days on the Copper Creek Golf Course. Be sure to grab food and drinks from JJ's Rocky Mountain Tavern after your round.
Copper Creek Golf Course Information
Par 69
18 Holes
Slope of 115
Gold: Rating 65.9, Slope 117 | Blue: Rating 63.9, Slope 111 | White: Rating 61.9, Slope 125 | Red: Rating 63.1, Slope 121

2020 Copper Creek Golf Course Rates
18 H Green Fees w/Cart: Off Peak $79/Peak $92
9 H Green Fee w/Cart: Off Peak $46/Peak $59
Youth 18 H Green Fee w/Cart Off Peak $52/Peak $52
Youth 9 H Green Fee w/Cart: Off Peak $36/ Peak $36
18 H Green Fee Midday w/Cart (begins at 1pm

): Off Peak $68 Peak $81

18 H Green Fee Twilight w/ Cart (begins at 4pm

):

Off peak

: $40/Peak $49

18 H Super Twilight w/Cart (begins at 6pm

): Off Peak: $23/ Peak$28

Non-Golfing Rider 18 Hole Cart Fee: Peak $14/ Off Peak $14
Non-Golfing Rider 9 Hole Cart Fee: Peak $8/ Off Peak $8

2020 Copper Creek Season Pass
Unlimited play, based on availability
One FREE 18-hole round with cart included for a friend
FREE use of warm up

facility (hitting nets and putting green)

8 Friends & Family Vouchers for $49 Rounds valid in the AM and PM
5 day

book window (i.e. book on Sunday for Thursday)

2 day

booking window Friday-Sunday during July & August (i.e. book Thursday for Friday during this time period)

3 ways to book tee times: user friendlyon-line

system, by phone or stop by the golf shop

Optional cart or golf bike add on for the Season - $140
Full 18 holes will be open all summer! (will not be impacted by capital developments)
*Perks listed above are for Adult passes only.
Thanks for checking out Copper Creek Golf Course. We hope to see you at America's Highest Golf Course!