Ride through the Colorado Alpine
Copper Mountain is a mountain biking paradise. Depending on your skill level and endurance, there are many different options. From long rides into the Rockies to some of the best lift-served single track in Colorado, mountain biking at Copper has become one of the most popular activities. Find your flow with our mountain biking suggestions.
Copper Mountain Bike Park
If you're looking for a ride uphill or are a hardcore downhiller, you're in luck. The Copper Mountain Bike Park is known for its family friendly vibe. 
Fun Trails:
Elk Alley
A-Road
Red Tail
R-Road
2Bucks
Mountain Biking Near Copper
Mountain biking is one of the most exciting summer activities in Colorado. And Copper Mountain provides access to spectacular trails throughout Summit County. Depending on the day, you can ride toward the Continental Divide or search for classic single track trails. Here are some popular rides.
Classic Summit County Mountain Bike Rides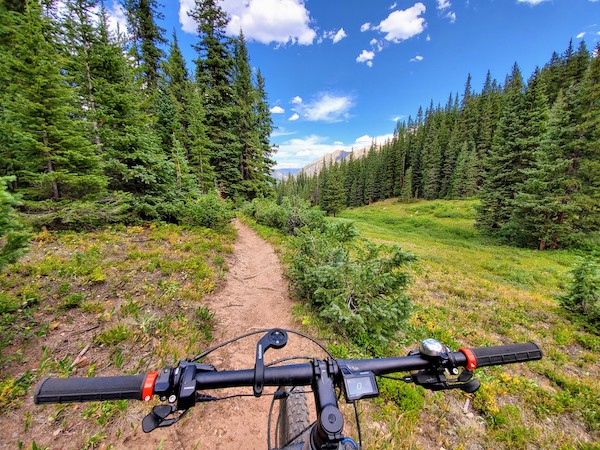 Wheeler Trail
10.3-mile point to point
The Wheeler trail is a classic alpine single-track ride with several miles over 12,000 feet. Most often ridden from a trailhead on McCullough Gulch Road all the way to Copper Mountain, this ride has great views of Quandary Peak and the Gore Range.
Colorado Trail: Copper Mountain to Searle Pass
19.3 miles round trip
Ride into the alpine on the Colorado Trail. Beginning right at the base of Copper Mountain Resort, this ride tops out at 12,044 feet. Best during late summer, when the snow high-elevation snowfields have melted, the Colorado Trail climbs through alpine meadows with expansive views.
Frisco 20 Loop
19.9-mile loop
This classic ride connects Copper with Frisco on a variety of road and trails. With over 3,000 feet of climbing, the Frisco 20 loop is sure to test your lungs and legs. Combining sections of the Wheeler Trail, the Colorado trail, and the Peaks trail, this ride gives you a little bit of everything
Burro-Spruce Creek-Burro
9.6 mile loop
Just a short drive from Copper, Burro-Spruce Creek-Burro is a technical rides that starts at the base of Peak 9 at the Breckenridge Ski Area. Ride single track on a historic mining road to Spruce Creek Road and the Spruce Creek Trail.
Dirty Copper Triangle
32.3 mile point to point
The Dirty Copper Triangle, is the ultimate high mountain bike ride near Copper. Named for a similar road ride that traverses three alpine passes, this classic ride climbs for over 5,000 feet. Ride Searl Pass, Kokomo Pass, and Ptarmigan Pass. The Dirty Copper Triangle is a true test piece of Rocky Mountain mountain biking.
Plan a Bike Trip at Copper Mountain
Thank you for learning about the great mountain bike riding near Copper Mountain. We look forward to seeing you in the Rockies.